So I finally finished painting up the core of my Protectorate of Menoth starting army. Having already built a Cygnar, Khador and Merc force, this was my next big Warmachine project.
The models pictured above include the BattleBox minis(Kreoss, Repenter, Revenger, & Crusader(shown as a Templar)) with a Heavy Plastic Warjack kit added(shown as a Vanquisher) and the Choir of Menoth as well. I also ordered the box set of Deliverers, but my first Delivers box actually contained Flameguard Cleansers by mistake. I liked them so I kept them...and ordered an additional box of Deliverers(which
were
Deliverers!). These two units are still unpainted(and thus not shown).
Secondly, I chose a mosaic tile pattern for the base and I really liked the result. The basing them was a partially ruined Menoth temple that was reclaimed by Menite forces(this the partial tile/rubble effect).
this tutorial
made by Plarzoid at the Privateer Press forums . I highly recommend
K&J Magnetics
for the magnets...great website, prices and prompt shipping. At any time I can run any two of the following in a battle now: Crusader, Crusader, Vanquisher, Templar. I call these guys my "Protectorate Action Figures" because of the nice, pose-able articulation that comes with magnetizing them.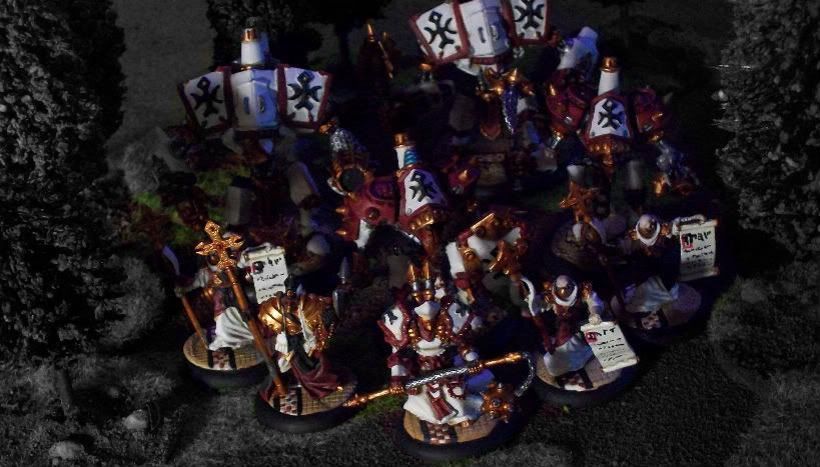 Kreoss and company emerge from the forest, ready to deal death to the Morrowan heretics!
For a more detailed description view the video version of this Figure Feature below...