Well I finally have painted my first couple of Trollbloods- an army I've been anxious to get my brush on for some time now. You have to love these sculpts...full of power, character and humor!
Madrak is a great figure who, of course, is an "albino" Trollblood. I love the stone, metal and leather details that Privateer put on this guy. This was my first time doing a tartan- and that was a challenge. I pretty much followed the guide in the Forces book for painting it, although I scrapped my first try and started over.
The bases for my first two Trollbloods are fully customized. I used carved sprue for the plant and green stuff for the other details(mushrooms, logs, vines & leaves). I wanted a whimsical, decaying forest theme.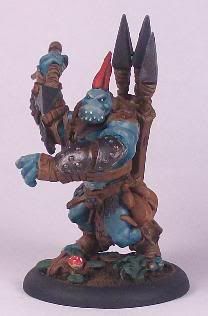 The Impaler has a classic Trollblood Blue coloration and I used the studio models as mu inspiration. Note the turkey(s) hanging from his belt! I find trollblood eyes a little tricky...but I have discovered that "less is more" is the key when it comes to their eyes.
The leather on this guy was fun to do...some Gun Corps Brown, Beasthide, and a couple of other shades all received a wash of Reaper Brown Ink(including the metal bits).
For a full video Figure Feature see below...